Our UV System (Ultraviolet System) for WasteWater are designed in a way that suits diverse industrial environments. This UV System (Ultraviolet System) for WasteWater are categorized on the basis of the capacity of water that needs to be sterilized per hour, ranging from 350 LPH and above. We also design customized UV System (Ultraviolet System) for WasteWater units according to clients' requirements.
The UV Radiation chamber is made with SS 316 L with electro-polish which is corrosion resistant, particularly against chlorides and other industrial solvents. Either end of the chamber can be used as the inlet or outlet; both are directed horizontally upwards to ensure that the pressure maintained in the chamber doesn't exceed the maximum avoiding any chances of breakage in the UV lamps. The control panel mounted on the UV Ballast has LED indicators for each lamp to notify lamp failure and it also has an hour meter to keep a check on the remaining life of the lamp.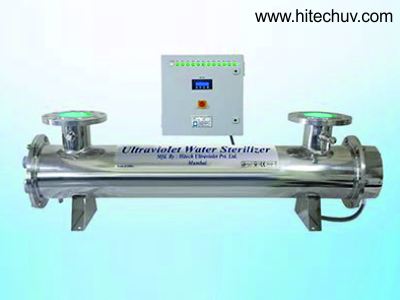 UV System (Ultraviolet System) for WasteWater
The compression nut & lamp holders are easy to use, simplifying the installation and replacement process. These systems are used for water purification in most industries, majorly production of food & beverages, cosmetics, paint industries, hotels, spas, aqua culture, hospitals, clinics, pharmaceuticals etc.
High Quality UV-C Lamps
High Transparency Quartz Sleeves resistant to temperature fluctuation
UV Radiation Chamber is SS 316 L electro-polished, remains unaffected by toxic environments.
Compact designs, saving significant amount of space.
Long lasting and less power consuming electronic ballasts, saving energy.