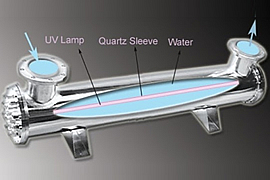 Ultraviolet (UV) Water Systems
UV System, Ultraviolet (UV) Water Systems & Ultraviolet (UV) Water Disinfection Systems
UV systems at a time when Teflon Technology was new to Indian industries.
Ultraviolet (UV) Water Systems
A New Uv Systems At A Time When Teflon Technology Was New To Indian Industries Type Of UV Water Disinfection System Product Is Making Waves In The Water Industry: Ultraviolet (Uv) Water Disinfection Systems That Utilize Deep-uv Light-emitting-diodes (Led). Ultraviolet (Uv) Water Disinfection Systems Are Now Available On The Market And Offer The Combined Benefits Of Two Gold-standard Technologies; Uvc Germicidal Irradiation And Led Lights. This Article Discusses The Significance Of Uv System Teflon Technology, Its Application In Water Treatment, The Prospect For Their Social And Environmental Impact, Their Current And Future Applications And What To Look For When Considering A Teflon Technology Water Disinfection Product.
They Can Now Be Used To Design Affordable Point-of-use (Pou) Water Disinfection Uv System Solutions. Much Research And Development Has Gone Into The Development Of Uv-led Water Disinfection Devices, And It Has Become Apparent That Even Minute Details In The Design Of These Devices Can Be As Important As The Power From The Uv-led Itself. A Highly Efficient And Affordable Uv-led Water Disinfection Device Is Currently . Each Applying Their Own Concepts On How To Best Utilize Uv-leds. Current Uv-led Water Disinfection Devices Are Ideal For Pou Applications, Which Is Great News For Consumer Markets Around The Globe And For The Appliance Manufacturing Industry, That Have Lacked A Convenient And Eco-friendly Solution To Microbial Pathogen Contamination In Drinking Water.